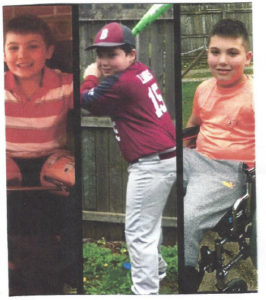 Jake's Journey began in September 2010, at five years old, when he was diagnosed with Legg-Calve Perthes Disease (LCPD). On January 3, 2011, Jake underwent a major surgery (externa! fixator surgery) at Rubens Institute for Advanced Orthopedics (RIAO) in Baltimore, MD. This surgery was performed by Dr. Shawn Standard, who is a leader in the field of LCPD.
After surgery, Jake and his Mom lived in Baltimore for three months, so he could be seen daily and receive special therapy. Jake then came home, and after a long road of recovery, has done great for the last 5 % years. Even becoming a great baseball player! This is a sport Jake loves!
Jake is now facing an even more major surgery (head splitting osteotomy surgery [. This surgery will also be performed at RIAO by Dr. Shawn Standard. After this surgery,. Jake should only remain in the wheelchair for three months, and recovery will be approximately one year. Jake and his Mom will spend approximately 10 days in Baltimore.
The purpose of raising funds is to help ease the financial burden of the additional costs that insurance does not cover, repeated trips to Baltimore, and the extended stay in Baltimore.
A donation account has been set up at Freedom United FCU, 283 Adams Street, Rochester PA 15074. If you would like any further information, please contact Deborah Smith @ 724-622-4463.
Thank you in advance for any support you are able to provide!!!!
All for a Great cause. Benefit's Jake's Journey

Tickets can be purchased by mail: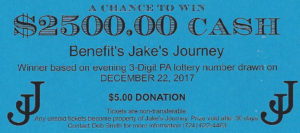 But, don't forget to include your contact information: Name / Address / Phone Number / Email Address
Include a check (DONATION) for $5.00 payable to the order of Deborah Smith for each ticket purchased.

SORRY NO CREDIT CARDS

For tickets purchased by mail: Send a self-addressed stamped envelope to:

Deborah Smith
C/O JAKE'S JOURNEY
615 Tuscarawas Road
Industry, PA 15052