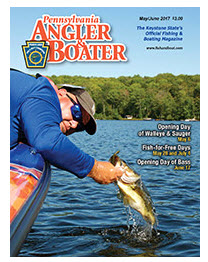 Another digital issue of Pennsylvania Angler & Boater magazine is available for multi-year license holders who have included their e-mail address as part of their license account.
We are pleased to present the May/June 2017 edition of Pennsylvania Angler & Boater. As each bi-monthly edition becomes available, you'll receive an e-mail notice of when the latest edition is available.
This issue focuses on the upcoming seasonal opportunities in Pennsylvania. Here's a sample of the feature articles inside this issue:
Drop-in Kayak Fishing
Wading for Smallmouth Bass
Tips for Making Your Next Float Trip a Success
The Lake Erie Smallmouth Bass Run
Backwoods Wild Trout
And many great videos not included in the print version of the magazine.
As a reminder, your free subscription to this digital magazine is good for the full term of your multiple-year fishing license. So, log-in using your computer, laptop, digital tablet or smart phone and know that Pennsylvania Angler & Boater magazine is available for your reading pleasure, anytime and anywhere. To log-in, remember that in addition to typing in your e-mail address, your last name will always be your password.
To log-in to this digital edition, visit www.fishandboat.com/anglerboater/ezine/