FEBRUARY 3-11, 2018PA FARM SHOW COMPLEX HARRISBURG, PA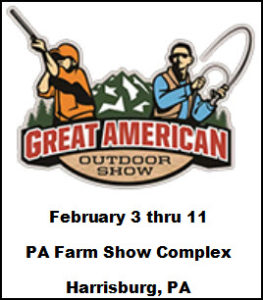 The Great American Outdoor Show is a nine-day event celebrating hunting, fishing and outdoor traditions that are treasured by millions of Americans and their families. The show features over 1,100 exhibitors ranging from shooting manufacturers to outfitters to fishing boats and RV's, and archery to art covering 650,000 square feet of exhibit hall space! Not to mention a jam packed schedule including country concerts, fundraising dinners, speaking events, archery competitions, celebrity appearances, seminars, demonstrations and much more!
Link to show web site: GreatAmericanOutdoorShow.org
KID'S TROUT POND ROCK CLIMBING WALL NRA RANGE EXPERIENCE
NRA AIR GUN RANGE KID'S CASTING CONTEST DOCK DOGS 3D BOWHUNTER CHALLENGE
Don't miss other family-friendly areas to visit during the Great American Outdoor Show!
The Eddie Eagle Fun Zone has everything you might need to keep the little ones entertained while you have a rest … stop by and enjoy fun with your family!
The Fun Zone is free of charge and has plenty of activities, including:
Wildlife identification
Face painting
Eddie Eagle Basketball Court
…and more!
Be sure to stop by and enjoy a special Eddie Eagle birthday celebration at the following times:
Saturday, February 3 at 3:00pm
Sunday, February 4 at 12:00pm
Thursday, February 8 at 3:00pm
Friday, February 9 at 3:00pm
Saturday, February 10 at 3:00pm
Sunday, February 11 at 12:00pm
At the Great American Outdoor Show, there are over 1,100 exhibitors with the best products, gear, and adventures you can find
for the outdoors. There's something for everybody – but especially the kids!
FUN FOR THE ENTIRE FAMILY AT THE GREAT AMERICAN OUTDOOR SHOW