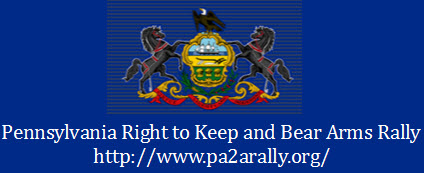 Rally to Protect Your Right to Keep and Bear Arms
Monday, May 22, 2017 – 10 am
State Capitol Rotunda, Harrisburg
" The right of the citizens to bear arms in defense of themselves and the State shall not be questioned."
Article 1, Section 21 of the Pennsylvania Constitution
Second Amendment supporters, state lawmakers and pro-gun organizations will gathering once again for the Annual Right to Keep and Bear Arms Rally on the Capitol steps in Harrisburg. Please join fellow NRA members, gun owners and state lawmakers to rally against the malicious attacks on the Second Amendment made by anti-gun federal and state lawmakers.
Don't forget to wear red, white and blue during the event to show your patriotic support for the Second Amendment.
For more information, you can visit the rally website.
Please make plans to attend on this important day in support of the Second Amendment.